Lockdown time has lost all meaning, it has become a gloop-like form, like Gak. Remember that? (Can you tell I have also been feeling nostalgic?) It came in fluorescent colours of pink and green and blue. My sister and I would stretch it, and it would snap back into the same shape, but tarnished by our fingertips. 
At the beginning of lockdown, we were told we would have to endure two weeks. Which turned to three, then 12 weeks stretched in front of us, an unknown maze which we must find our way out of somehow. I look back at a selfie from that first week, my fringe cut into a sharp line across my forehead. Short, sweeping way above my eyebrows. I study another photograph from what must have been week 9? My fringe now lollops over my brows. How does hair do that? You don't notice its tiny incremental movements until suddenly it's irritating you, strands dangling over your eyelids. It creeps up on you, like our current state of life took hold of us and snatched away our plans. Our hair moves like lockdown hours, quickly and slowly all at once. 
Our hair moves like lockdown hours, quickly and slowly all at once. 
…
I've always had a somewhat tumultuous relationship with my hair. When I was a teenager, I would gel it flat to my scalp, moulding two pieces to my forehead. When I went to uni, I'd spend hours straightening it, section by section with my GHDs. I've been through stages when I only wear it up. There was the slick bob stage and the side-sweep phase where my parting almost sat on top of my ear. 
There have been dramatic moments too. I got my haircut once and in no uncertain terms told the hairdresser to shape my hair into a blunt line that would sit just above my shoulders. "Please do not put layers in," I pleaded. She didn't listen as she hacked into it thinking she knew what I wanted more than I did.
As she blow-dried my newly cut hair, tears streamed down my face. I cried as if I was grieving for every last strand. I knew I was being dramatic, that it was too much for the occasion, but I couldn't stop. I pinned it with dozens of grips and slides for weeks, months, so I didn't have to see the layers I hadn't asked for. 
There was also the time I was drying my hair with a hairdryer after a yoga class. A chunk of hair that sat right in the middle of my scalp got tangled into the nozzle. I can still smell the burning in my nostrils. I had a panic attack on the phone to my boyfriend on the way back to mine. I got a fringe cut in to hide the bald patch. A fringe that has become part of my look. 
…
It's only over the last few years that I've finally got into my haircut groove, thanks to finding a hairdresser who truly gets me, and actually listens to what I want. I pop in every two weeks so he can chop my fringe back into that immaculate line that frames my face. Lockdown stopped that fortnightly date, I miss it.
My makeup is gone. My outfits have changed. But my fringe, I wasn't ready to let go of. I couldn't watch it grow anymore, edging down my face as lockdown time moved stickily along. 
But I couldn't just pick up a pair of scissors and cut. Could I? Memories of those harrowing haircut moments bob in front of me, holding me back.
But I couldn't just pick up a pair of scissors and cut. Could I? Memories of those harrowing haircut moments bob in front of me, holding me back. It felt like a radical move, something my mullet-haired little sister, aged four circa 1990, would do, recklessly pick up a pair of scissors and go for it with abandonment.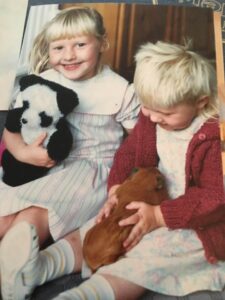 I must channel that fearlessness. I can do this. I can do this.
OMG, I can't. 
Can I?
But my fringe is looking terrible…
So, I watched a YouTube tutorial. 
In a clip I stumbled upon, a girl merrily chops away at her fringe, at the end of the "tutorial" her bangs hung in a wonky, jagged line – but she was chuffed with herself. She whacked on some red lippie and was loving life. So if she could do it, I can bloody well do this, too.
So I cobbled together my very own hair-cutting kit: my sharpest pair of scissors, just some stationery ones that I usually use to cut wrapping paper; a blusher brush to wipe any flyaways from my face; a comb to keep brushing the hairs as I chop; and my husband's clippers…
I play LCD Soundsystem's "Emotional Haircut" as I stare at my face in my bathroom mirror. The track has just the right amount of intensity to mark this fortuitous moment.
Nerves fluttering in my belly – I don't know why it's such a big deal, it will grow back, right? –  and I started to cut, a millimeter at a time, as the lyrics blast into my ears: "I'm not sure I want to step outside with my…emotional haircut."
Chop, comb, chop, comb, chop.
When I was happy with the length, I used the clippers to make sure the line was super slick and straight, just as I like it. Being careful to avoid my eyebrows (you can put tape over them if you're really nervous!).
And you know what? I felt bloody great. On top of the world. Invincible. Like I can do anything I put my mind to. I now give myself regular fringe trims, and it's freeing. Knowing I have this special power, that no matter where I am in the world (or how far away I am from my hairdresser), I can have my hair exactly as I want it.
And I certainly won't be rushing to the hairdresser today as salons reopen across the UK…