This is the first installment of our new series, 'Someplace for the Weekend' with suggestions for our fellow Londoners who want to travel post-quarantine, but aren't ready to get on a plane.
With lockdown lifting in England and the rest of Europe, I've been desperate for a socially distanced change of scenery that doesn't require getting on a plane. There's only so much excitement you can inject in to what feels like your one hundredth weekend at home, know what I'm saying? And from what I've been hearing, I'm not the only one who feels this way.
Enter Cliveden House. This is a hotel to choose when you want to be wowed. Desperate to introduce some romance into your relationship with yourself, or someone else? You can't go wrong with this choice. It's important to mention though, that this is more of a treat you deserve than a casual weekend away. What else could you expect from the hotel Meghan Markle stayed in before her wedding?
I went for my first wedding anniversary. I was hoping for something that would make me feel swept away, a place that felt like a special setting for a momentous occasion. I wasn't disappointed.
Entering via the most dramatic driveway I've ever encountered, we pulled up to what felt like a castle (though I'm told it was intended as a hunting lodge) and parked our little rental car next to a lime green Maserati. Yea, it's that kind of place. I was a little intimidated.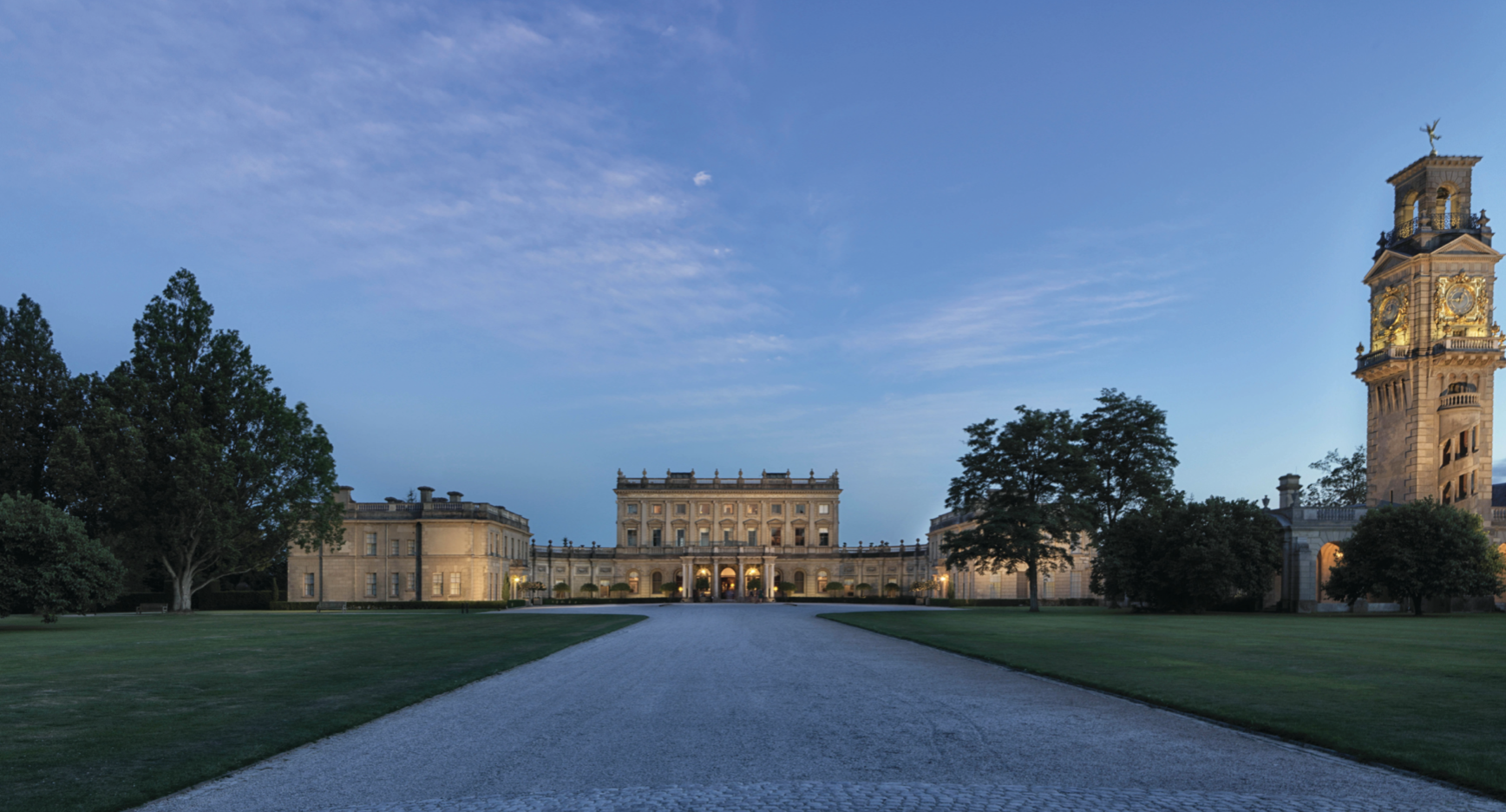 Thankfully, the staff were so friendly that I didn't feel that way for long. I was happy with their coronavirus procedures too. They took our temperature before we were allowed inside, have hand sanitizer at every entrance, and don't enter your room unless specifically asked. The staff of course all wear masks, and they suggests guests do the same when walking from point A to point B.
Our room was absolutely gorgeous. Each room is decorated differently and has some historical significance. I also love a good hotel bathroom, and I wasn't disappointed! Marble + an oversized bathtub makes me a very happy guest. And let's not forget that bed! A four poster canopied bed with the most glorious mattress I've ever had the luxury of sleeping on awaited me that night.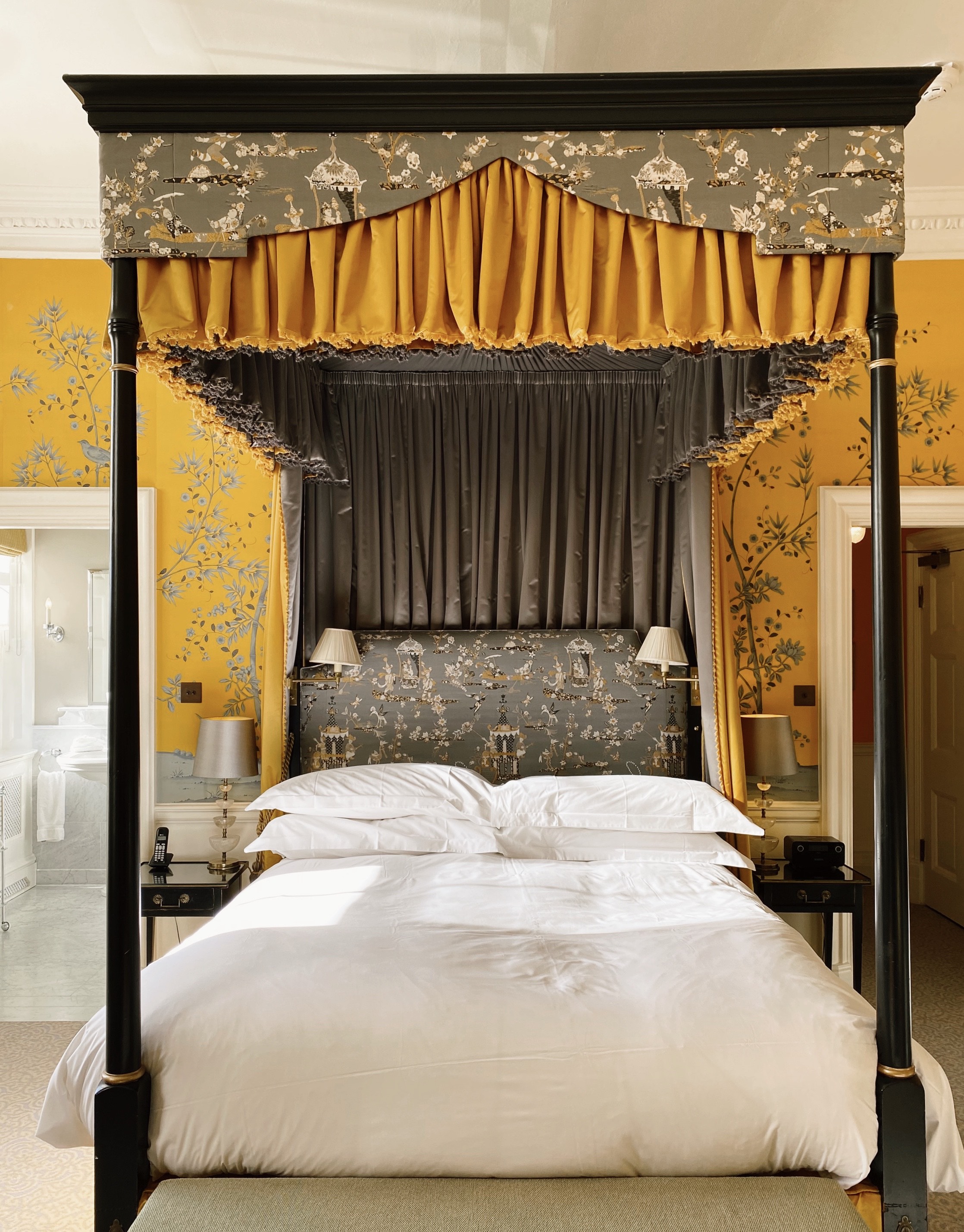 But if you're ready to go all out on your glamorous weekend away, I'd highly recommend that you stay in the rooms with their own hot tubs. Yes, you read that right! Of course, they're the only rooms that aren't dog friendly, but I doubt you'd be focusing on that if you stayed in these rooms anyways…
The food also didn't disappoint. Featuring British classics like Beef Wellington and indulgent dishes like the cheese soufflé, the restaurant caters to meat and vegetarian eaters very well. Plus, that SETTING! The dining room has huge windows looking over the lawn, and it makes for a truly glam dining experience.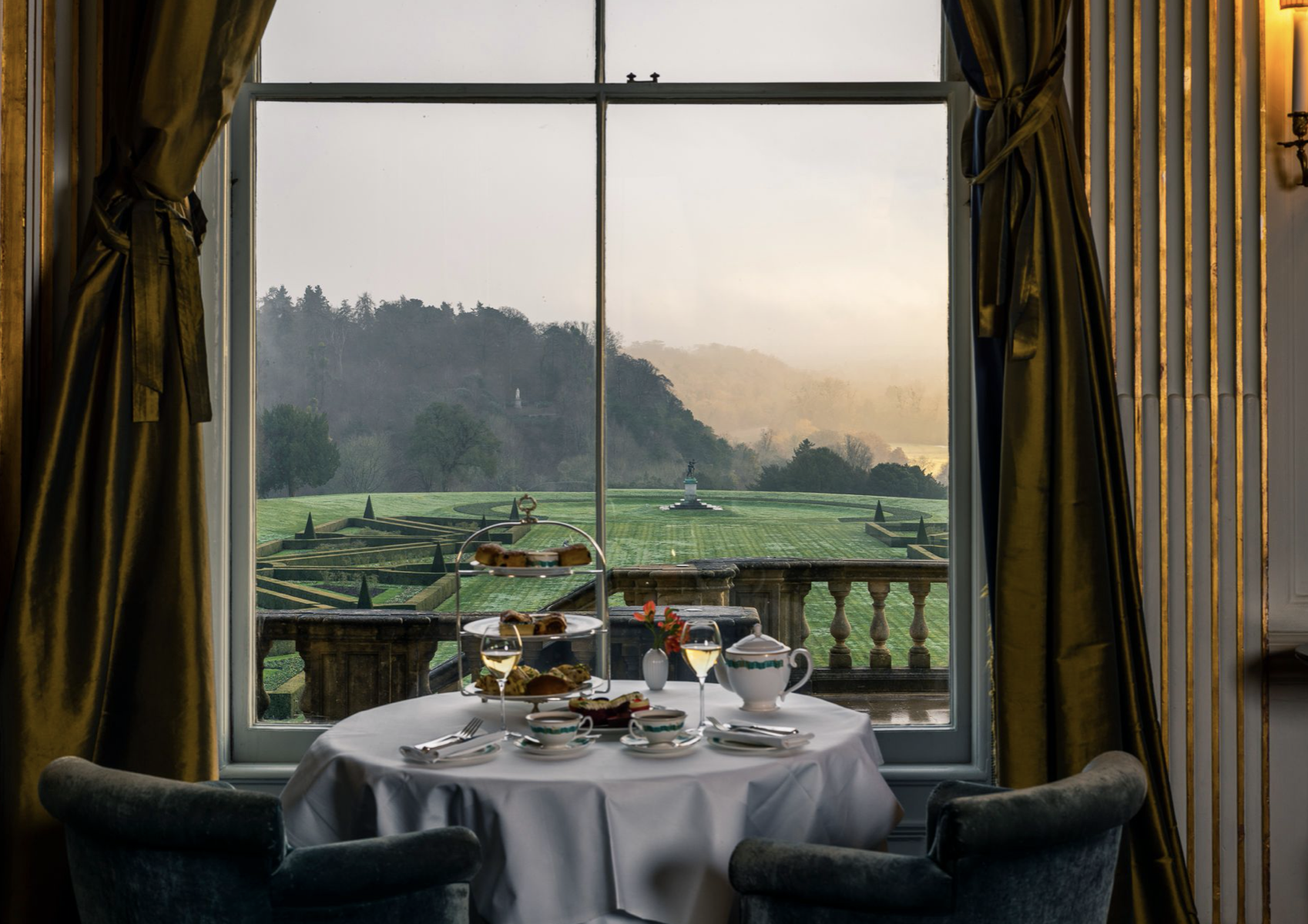 Once we were done with dinner, we headed to the library bar, where we admired the million dollar view while sipping Negronis. Our dog, Pepper, was welcomed in all areas except the spa and dining room…and we felt very bougie indeed with her on our lap and drinks in hand.
And let's take a moment to talk about the grounds. I'm not really a nature person. I'm not usually going to talk to you excitedly about a hotel's rose bushes. Cliveden House is different. With beautiful rose gardens, pristinely trimmed hedges, forests, and the Thames on your doorstep as huge birds circle above, it's a wonderland for those with dogs and for those just wanting to feel like they're in a Jane Austin novel! This is the kind of place Americans come to England to experience.
And speaking of that quintessential British experience, Cliveden House has a history of major drama that only adds to the sex appeal of this weekend away. Let's start with the fact that Meghan Markle stayed here before she married Prince Harry. Getting an inside glimpse of her last hours as single women is a pretty juicy opportunity! But that's really the most tame piece of gossip when it comes to this place. Ever heard of the Perfumo affair? It happened here. For those of you who don't know, essentially, a nineteen year old mistress of a Russian spy had an affair with the British Secretary of State. It ended in disaster, obviously.
The next day we had a lounge by the spa, and it was glorious. A pool big enough to swim laps in and two hot tubs that were actually hot satisfied my need for relaxation completely. Don't you hate it when expensive hotels have hot tubs, but they're not actually hot? A weird gripe I know, but it makes the difference between being totally happy with the money spent and not. When Cliveden isn't on restrictions due to corona, they also have an indoor pool, gym, and full service spa. (Feel free to invite me back to try those out, Cliveden!)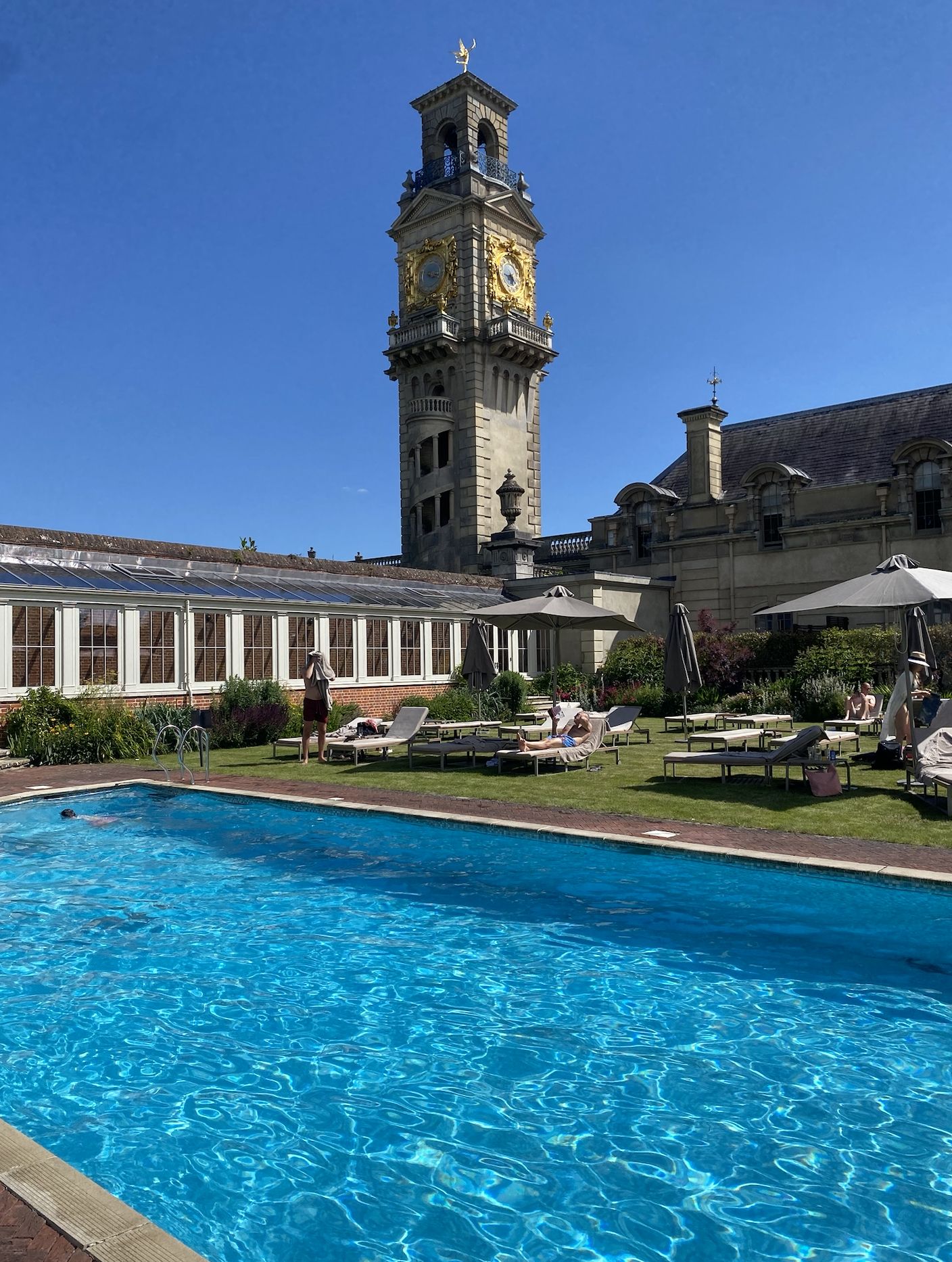 We also had a boat ride on the Thames, and I was surprised at how much more pleasant the river is outside of London. The boat the hotel provides is also pretty gorgeous, and the cocktails don't hurt either.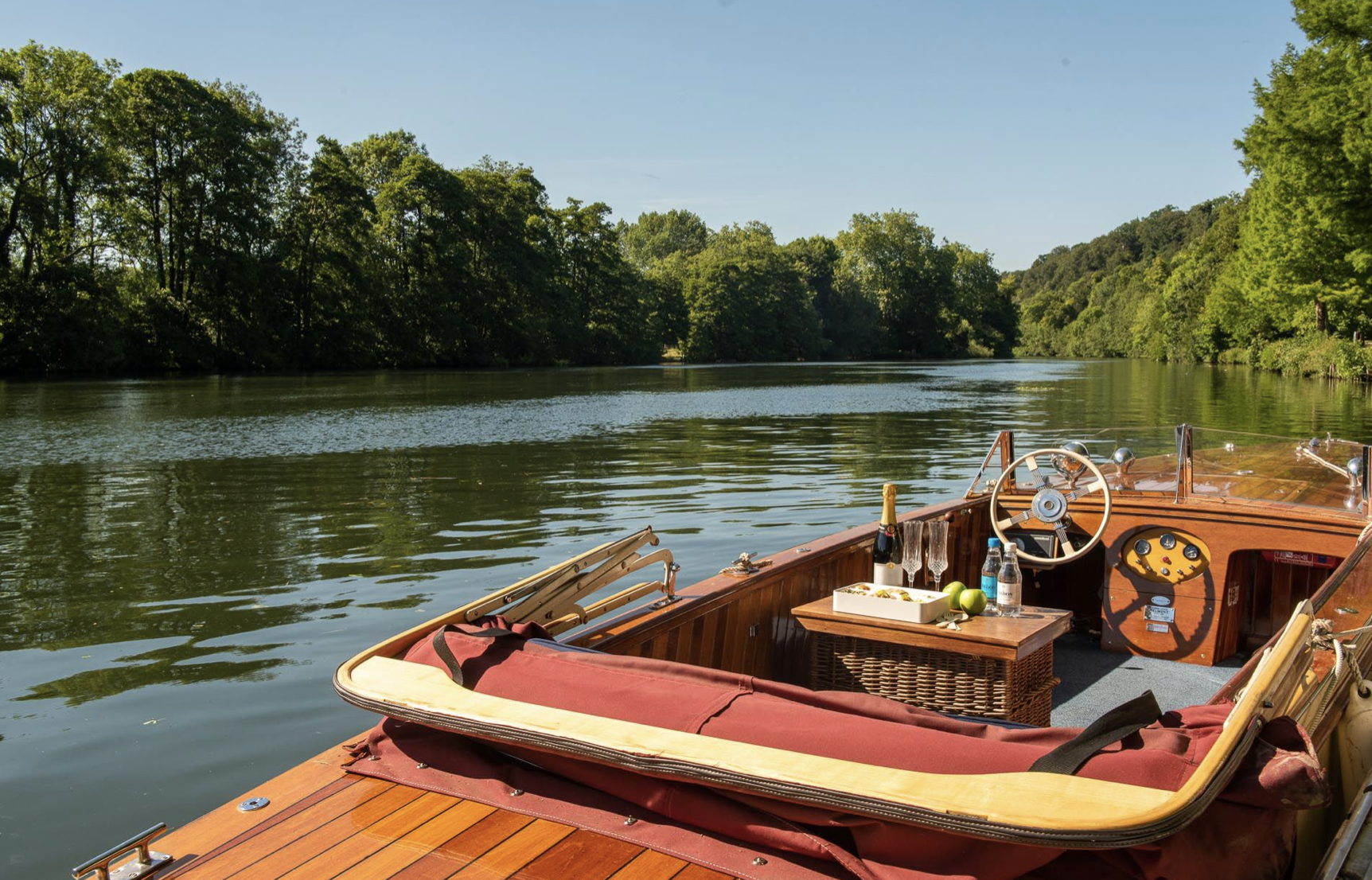 At the end of the day, what you're probably wondering is whether Cliveden House is worth parting with your cash for. The devil is in the details, and the details and the glamour of the place all proved to me that this is a hotel worth your money. Go for big romantic moments, special occasions, and that post-quarantine epic treat. It's certainly a splurge, but you won't be disappointed.
Restless Rating: 9/10